Upon invitation, Dr. Kristian Helin visited TMU on May 10, and was appointed as an Honorary Professor of our university. Professor Chunshui YU and Professor Yi ZHU, vice presidents of TMU, along with leaders from International Exchange and Cooperation Department as well as from Cell Biology Department of School of Basic Medical Sciences, attended the appointing ceremony.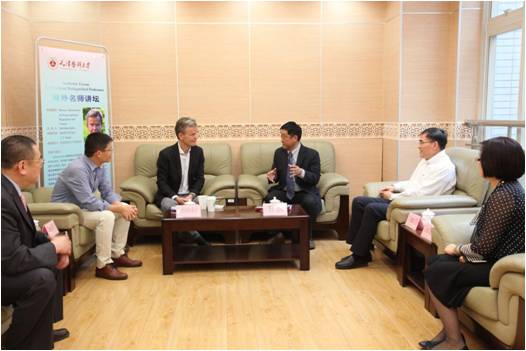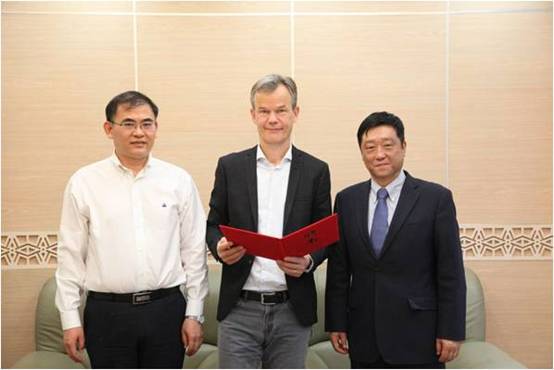 University leaders warmly welcomed Dr. Kristian Helin for his visit and congratulated him on his outstanding achievement in biomedical research and epigenetics, and hoped to have comprehensive research collaboration with Dr. Helin. Professor Chunshui YU introduced TMU and the progress we have made in recent years in respect of medical education, research, and medical practice. Professor Yi ZHU issued Dr. Helin the certificate of "TMU Honorary Professor"on behalf of the university. Dr. Helin said he was very happy to visit TMU and he would like to take the opportunity to further strengthen the cooperation between the two sides.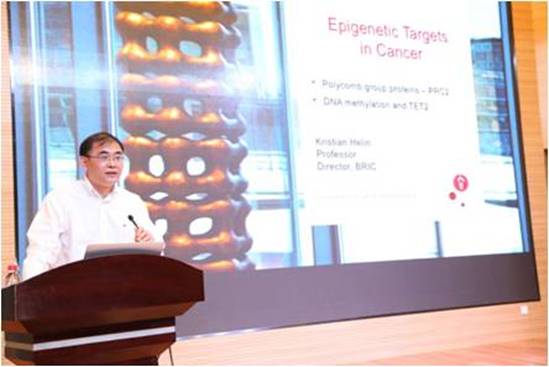 Following the Conferring Ceremony, Dr. Helin conducted a seminar entitled "Epigenetic Targets in Cancer"in Longde Hall, as a session of the "Academic Forum by Overseas Distinguished Professors", which was hosted by Vice President Chunshui YU. Dr. Helin started off his talk with the introduction to epigenetics, chromatin biology and its significance in the regulation of cell fates. Given that aberrant epigenetic states are tightly correlated with improper gene expression and therefore developmental defects or cancers, epigenetic therapies have been attracting more and more attention. To identify more effective and specific epigenetic targets for cancer therapy, his team has been focusing on the understanding of maintenance factors for cell fates. Then Dr. Helin went through the published findings from his lab in this direction, mainly on Polycomb group proteins and DNA methylation.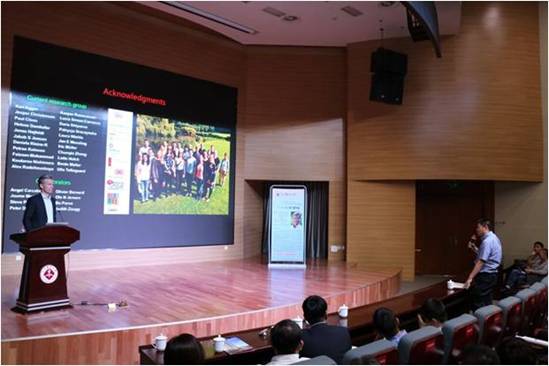 Apart from TMU's teachers and students, the audience also consisted of scholars and experts from Nankai University and the Haematology Institute of Chinese Academy of Medical Sciences, with a total of nearly 500 people attending the seminar. During the two hours seminar, there were a lot of interactions between the speaker and the listeners, who were very impressed and attracted by Dr. Helin's presentation and asked quality questions from various perspectives of their own research interests.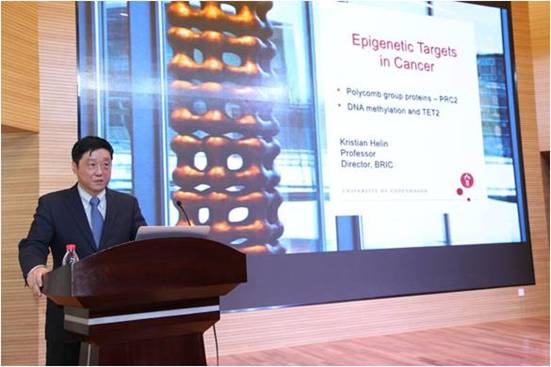 In his address, Vice President Yi ZHU emphasized that we must take advantage of this Forum and other academic activities, to invite more and more internationally prestigious scientists to TMU, and promote the first-class discipline development,while providing international communication platform for the purpose of TMU's becoming a high-level , research-type medical university. In addition, these academic activities can widen the global vision of our university's students and faculty members, and are beneficial to the cultivation of innovative talents and scientists.